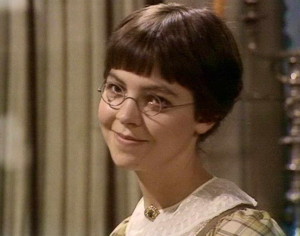 This was one of my first vignettes (much edited) that I wrote for a fan-fiction site. I penned it before I rehabilitated Mary Bennet in 
The Perfect Bride for Mr. Darcy
 in which Mary finds true love. I believe Mary got the short end of the stick in 
Pride and Prejudice
. As a middle child, I sympathize.
Upon hearing the letter carrier's bell, Charlotte took out her coin purse so that she might pay the postman. She was not surprised to find that she had received a letter from Mary Bennet. In fact, Mary had become her most prolific correspondent. Charlotte was not sure how this epistolary friendship had come about, and it truly was a friendship that existed only on paper as Mary had never ventured into Kent. Whatever its origins, it certainly turned out to be fortuitous for a certain couple.
Despite declarations to the contrary, Mr. Collins loved gossip, especially about his cousins in Hertfordshire, and encouraged his wife to continue her correspondence with Mary. It cheered Mr. Collins to know that at least one member of the Bennet family recognized his manifest qualities.
The letters, filled with interesting tidbits, had begun almost immediately after Charlotte's arrival in Hunsford, and it seemed there was nothing that happened at Longbourn that Mary was unwilling to share. As a result, she knew that Mr. Bingley had left Netherfield Park to return to London almost as soon as it had happened. And Mary was quite liberal in sharing the depth of Jane's heartache: "With Mr. Bingley now gone for four weeks, Jane has decided to go to London to visit with our mother's brother in the hope of restoring her spirits, which are very low. Unfortunately, Jane and Mama had pinned all of their hopes on Mr. Bingley even though he had never once used the word 'marriage' in any of their conversations. It is now generally believed that Mr. Bingley will not return to Netherfield before the spring. It is my belief that he is never coming back."